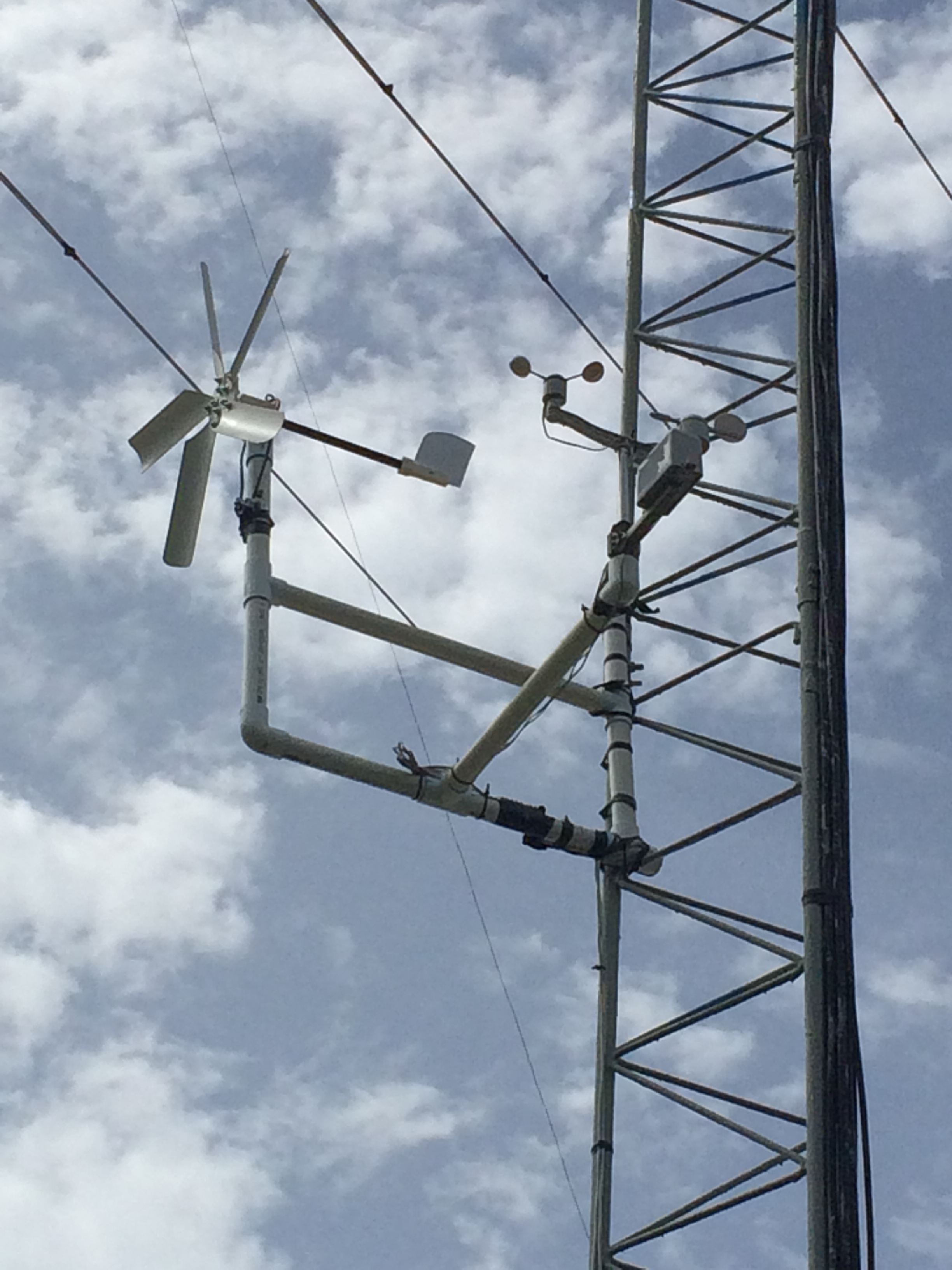 Wind Power for the Pi/Arduino – 8 Days in the Breeze
A new 50W wind turbine, wind speed and direction units have been added to Project
Curacao during the upgrade earlier this month.   Project Curacao has now been down in the Caribbean for 7 months.  Everything is looking good.  We replaced the wind turbine,  added a cable to keep it from popping out, stiffened the mount and added wind speed, direction and rain measurement to Project Curacao.
I put in the WeatherPiArduino board to interface between the WeatherRack (what a great name for the weather sensors!) and the Battery Watchdog Arduino.  We also replaced the DS1307 with a DS3231 Real Time Clock.  The DS1307 has been problematic for months as shown here.  A benchmark comparison of Real Time Clocks is here.  I also added some additional solar panels.
I also dramatically improved the reliability of the Battery WatchDog Arduino by adding a hardware WatchDog Timer – which has now been released as a product.  With the previous system, the Arduino could not recover from a power outage (the box is solar powered, and if you had enough cloudy days, it would die – requiring a hard reset from a button).  I've had a low power event after deployment and the WatchDog turned the Arduino back on perfectly!
I use RasPiConnect to build this control panel to show the wind speed / gust and performance of the Wind Power subsystem.  This is just a first cut at a good graph.  You can see the wind is greater at night and it varies a good deal.  One nice thing about Project Curacao and RasPiConnect is that it can be updated remotely.  If you want to build your own control panels with RasPiConnect, I wrote a tutorial here and a software library for LIVE graphs here.
What Happened in the Great Wind Storm of March 2014?
After the great Wind Storm of March 2014 in Curacao (which really wasn't that much of a wind storm – 35 MPH, it popped the turbine out of the tube and then the turbine destroyed itself completely), we decided that we had to make the improvements to have a longer lasting wind power turbine.  It only lasted one week in March 2014 after I left.  Now it has been up for two weeks and I'm keeping my fingers crossed.  Note that the turbine popped out of the stand and throughly destroyed itself.  We think that is was a sympathetic vibration with a particular wind speed (much like the "Galloping Gertie" Tacoma Narrows bridge) since we observed that the stand was flexing in the wind.
Related