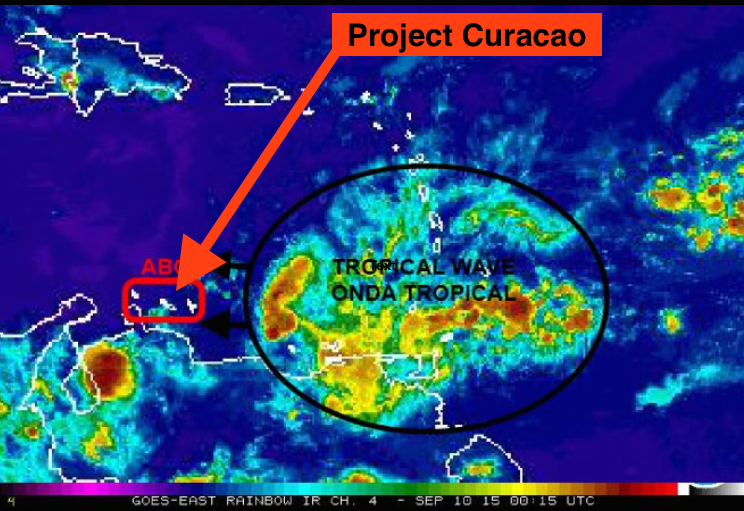 Big Storm Heads for Project Curacao! Raspberry Pi
Beware!
Tropical Wave Onda is heading for Project Curacao.   The first waves of this storm (not a hurricane, just a warm wet storm) have already been through Curacao with some small effects on Project Curacao with regards to rain and solar power.  See the charts below.
What is Project Curacao?
Project Curacao, a massive Raspberry Pi / Arduino solar powered project has been deployed for 4 months on Curacao, a small tropical island in the southern Caribbean.
It's been an up and down 4 months (but mostly up!).   The performance of the system has been excellent, except for a slightly loose connection to 2 out of the 3 solar panels to the Raspberry Pi.   This causes issues, as might be expected, but the power management system in Project Curacao has been handling it well.   Right now, we have a run of 4 weeks that the offending wire has been connected leading to boring power graphs, but great data!
The Raspberry Pi Subsystem
The oval below (shown on the RasPiConnect Control Panel – www.milocreek.com)  shows the effect of clouds coming in the early part of the storm over the past couple of days.  It's sunny now, but it won't be for long.   We are expecting at least two days of low solar power.   The system is designed for recover from "brownouts" but we may not see the system very much for a few days.  We have almost a full charge now for both the Raspberry Pi and Arduino.
Wind is Increasing
The oval below shows the current wind scatter chart from Project Curacao and the WeatherPiArduino/WeatherRack.   It is showing many more gusts in the past few days.
Rain is Starting
Curacao is a desert island and has been very dry this year.  This moisture will be mostly welcome.  You can see the rain starting.  Measured by the WeatherPiArduino.
The Future
We will post another update in a few days, if the box survives!
Related
Looking For A Specific Topic?