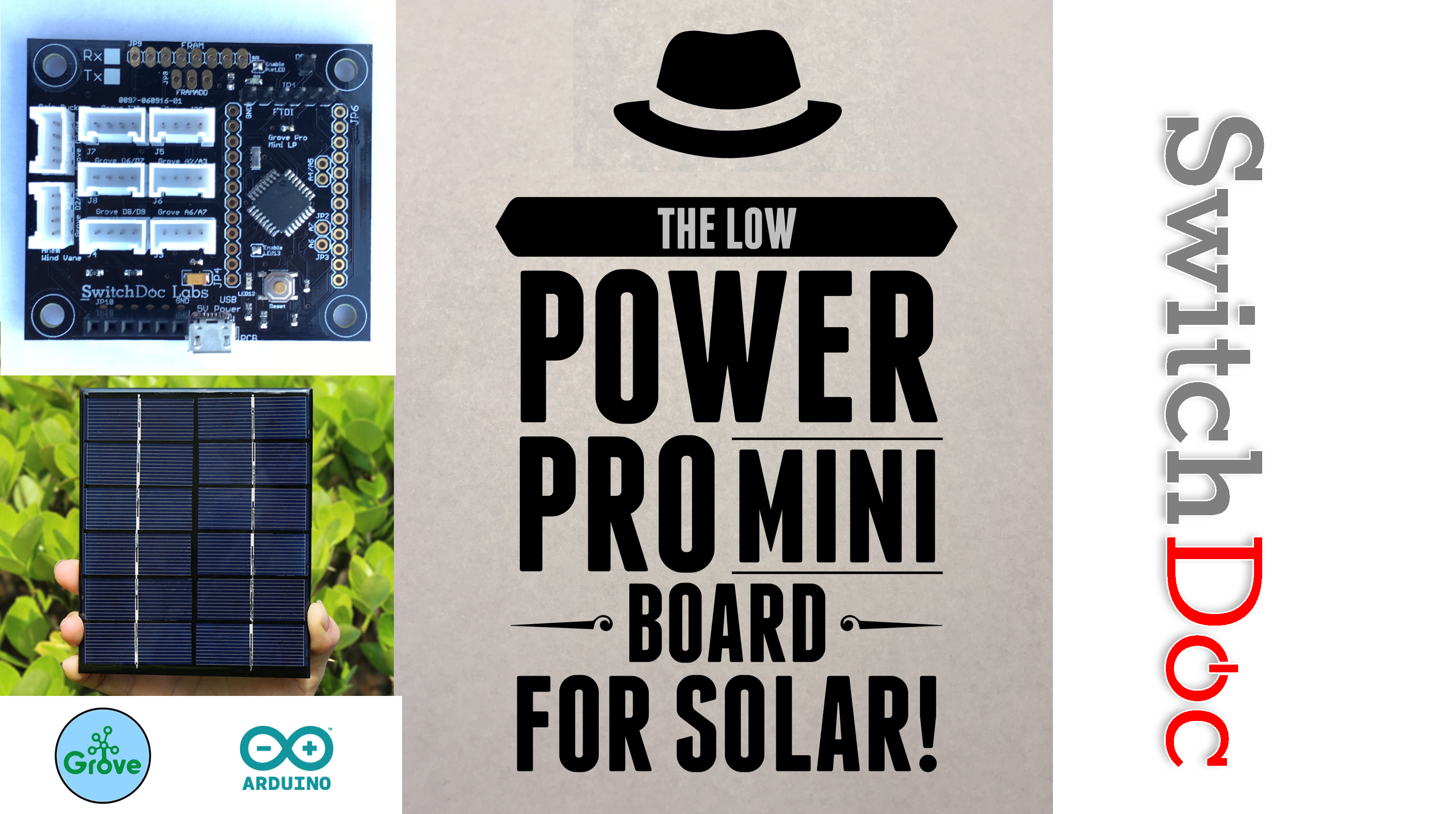 New Kickstarter! Solar – Grove Low Power Mini Pro Arduino Compatible Board
SwitchDoc Labs is pleased to announce our latest Kickstarter.    This Kickstarter is for a Low Power Mini Pro LP Arduino compatible board with Grove connectors for easy IOT and Solar prototyping.
Features
– Really Low Power Usage (for Solar applications!)
– Grove Connector Compatibility for IOT Prototyping
– ATmega328P Processor
– Arduino Pro Mini Compatible Pinout
– Under 1mA sleep current
– DS3231 Real Time Clock Included
– 3.3V – 5V
– Arduino IDE Compatible
– Thousands of drivers available
– Compatible with Hundreds of Grove Sensors
And this is why we are building the Grove Pro Mini LP.
We redesigned the Arduino Pro Mini LP board to be very low power.   We removed the regulating power supply, modified the circuit to run the processor at 8MHz and provided 3.3V and 5V compatibility. Whew!  And the engineering prototypes work!  We have about another week of testing and we should be able to release to production.  That means we will should ship this Kickstarter on time!
A Low Power Arduino Board – Designed for Solar!
The Arduino family of processors is a fabulous prototyping and building system for Makers.   The combination of the Arduino IDE with its thousands of available drivers for sensors and the ATMega line of processors have spawned a tremendous burst of creativity around the world.
At SwitchDoc Labs we have been building and writing about Arduino projects for years.   From Project Curacao in the tropics to specialized Arduino based solar powered weather stations, we have extensively used these devices in many ways.
Low Low Power
The Grove Mini Pro LP is designed to be low power.   Especially when sleeping.   It can be awakened in a number of different ways.   The included DS3231 Clock can be programmed to wake up periodically, the Arduino can be programmed to sleep for a while then wake up and the board can be programmed to wake up on a GPIO line changing thus causing an Interrupt.  Very flexible.
More on applications for the Grove Mini Pro LP in the coming weeks.
What is a Grove Connector?
The way we have been wiring I2C connections before just didn't work for building fast and quick IOT projects.  Then we found Grove.
There are hundreds of Grove Devices from multiple manufacturers around the world.   Just check out Seeedstudio.   Just for a quick look at over 100 boards.
You can't plug it in backwards.   If you put the connector in the wrong plug it just doesn't work.  No smoke.  No fire. This makes us happy as we look over into our Box Of Death, filled with boards we have ruined.
We quickly found the Grove connectors and their respective cables very useful. With the large selection of Grove I2C devices available, we decided to include a Grove connector on all our future boards and products.
For more information, check out our full Grove Tutorial here.
Coming in the Next Few Days
We will be describing the Mini Pro LP Board and releasing the specification!
Related