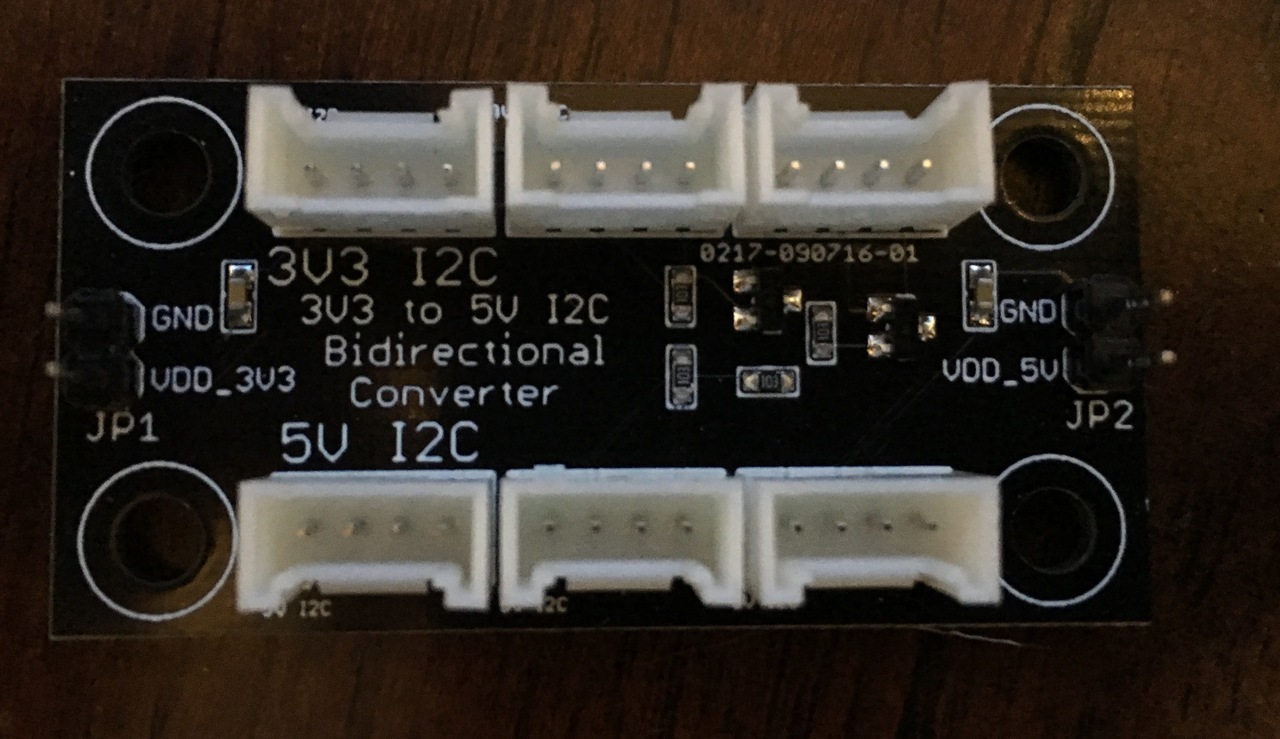 New Product – 3.3V to 5V I2C Converter / Hub
The Grove 3.3V to 5V I2C Converter / Hub board is and easy to use, high speed voltage translator for I2C buses. You can change your I2C bus from 3.3V to 5V (or even from 1.2V to 3.3V or 5V).
Features
– The Perfect Grove 3.3V to 5V Translator for I2C
– Also includes 6 Port Hub
– Three – 3.3V Grove I2C Connectors
– Three – 5V Grove I2C Connectors
– Can be used as 6 Port I2C Hub
– No Software Needed
This board is an inexpensive 3.3V to 5V I2C Translator and Hub Board.  It allows you to mix 3.3V and 5V I2C Devices in the same design. It also provides additional 3.3V and 5V Grove I2C connectors. You can also use it as a 6 port I2C hub for either 3.3V or 5V.
Our 3.3V to 5V I2C board   Contains Grove Connectors so there is no soldering required.
How to Buy SwitchDoc Labs Products
United States and Worldwide: SwitchDoc Labs Store 
Another Choice Within United States: Amazon.com (Free Shipping with Amazon Prime!)
 Note:    For the latest information and specifications, go to the product page on store.switchdoc.com
Downloads
– Grove 3.3V to 5V I2C Hub Board Full Specification
– No Software Required
How To Use
The 3.3V to 5V I2C Hub Board is easy to use. Typically, one I2C bus will be connected to 5V and the other to 3.3V.
The main connector to the computer will typically have 3.3V in the case of a Raspberry Pi) or 5V (in the case of most Arduinos or the Pi2Grover Interface Board). The other side of the bus (with all the I2C devices on it), typically is unpowered and you will either need to hook up 3.3V or 5V depending on what your computer is.
3.3V To 5V I2C Hub Board Pinout
Theory of Operation
The Grove 3.3V to 5V I2C board has a bidirectional level translation circuit between the SDA and SCL lines. Ground is common between both sides of the board. The Grove power line is NOT connected between the 3.3V and the 5V sides of the board. Which ever side is not powered but the attached computer must be connected to the power.
Note that the 3V3 Bank Labeling and the 5V I2C labels are provided for convenience. side anywhere from 1.2V to 5.5V.
Related