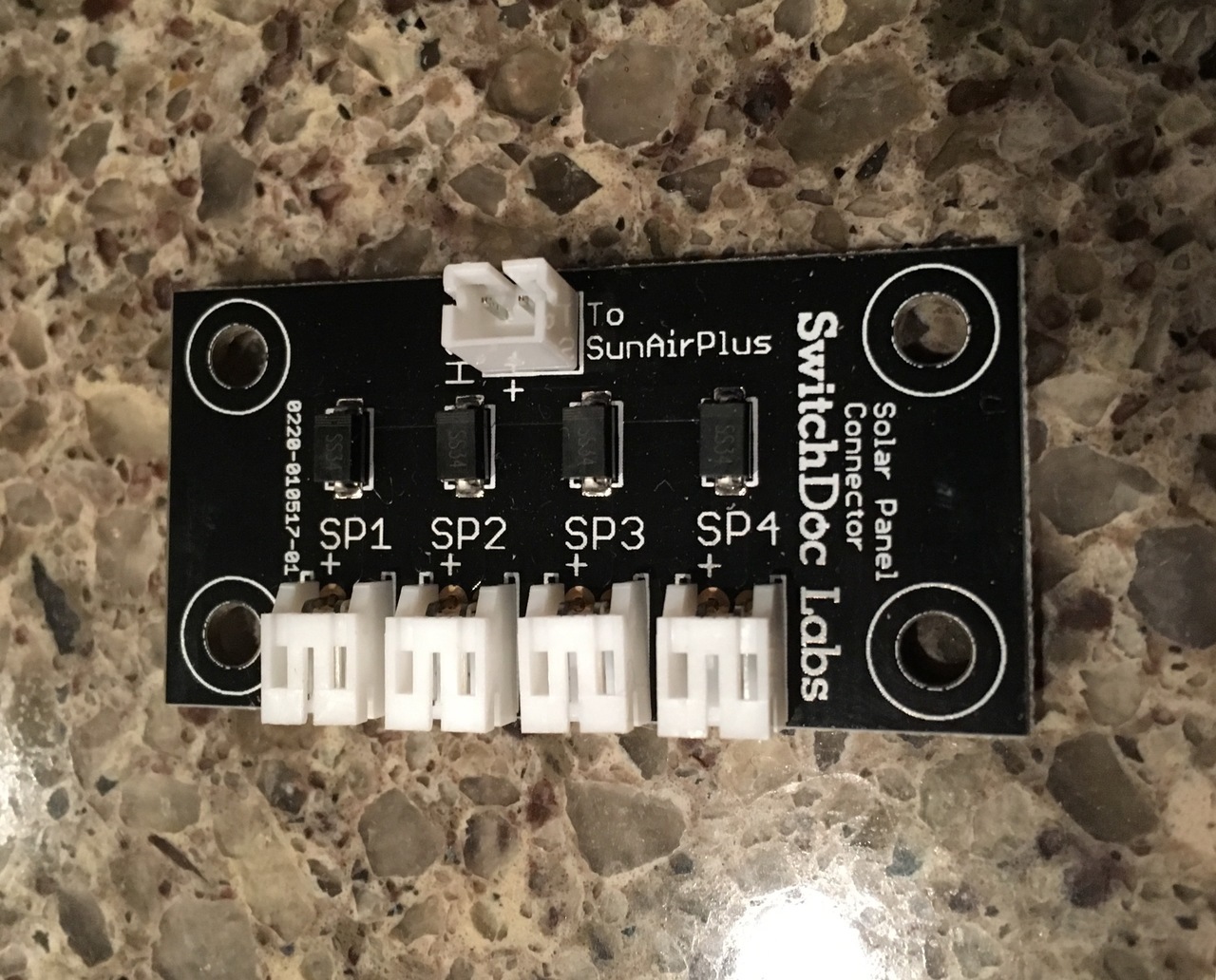 New Multi Solar Panel Connector Board Released
In preparation for the upcoming release for the OurWeather Solar Power Add-On Kit, we have released a new board, the Multi Solar Panel Connector Board,  that is specifically designed to make it easy to add more solar panels to your system without soldering.
The Multi Solar Panel Connector Board is a diode protected connector board designed to connect up to 4 Solar Panels (such as the SwitchDoc Labs 330mA Solar Panel and the SwitchDoc Labs 100mA Solar Panel).
This  allows you to connect up to 4 solar panels with no soldering.
You can buy this product on the SwitchDoc Labs store.
It comes with the Solar Panel Connector board and a 20cm female to female JST-PH 2 cable for connecting the board to SunAirPlus, SunAir or other Solar Power Charger Boards.  The solar panel plugs are also JST-PH 2 connectors.
The Solar Panel Connector Board has four diodes that protect the up to four solar panels and keeps the current flow heading for the battery even if one of the solar panels dies or is in the shade while the others are still working.
The attached diodes are a Schottky 40 Volt 3A diodes.   Not:, this board is limited to connecting 6V Solar Cells, even if the diode is rated at 40V.  We chose the diode for it's low forward diode drop (Vf = 0.45V) and the current rating.
We designed the board to connect up to 4 solar panels together without soldering and to provide a convenient way to hook the panels into SunAir or SunAirPlus.
This board can be used with the Raspberry Pi, Arduino and ESP8266 and other small computers.
While we designed this board for use with OurWeather, it will work equally well with any of our other solar products:
Related