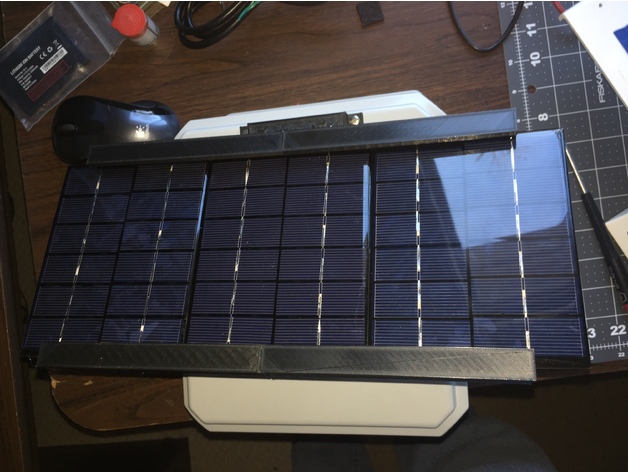 New Solar Cell 3D Printed Bracket on Thingverse
Here is a new solar cell 3D Printed 3 cell mount designed for the SwitchDoc Labs 6V 330mA Solar Cells by Larry Bonnette.  He has built a weather station using the the "OurWeather" and the Raspberry Pi Solar Power bundle. He is placing this setup at his RC airplane field in New Waverly Texas.
This is a solar panel mount for the "Switchdoc.com" 6V 330ma solar panels. It can hold three panels and  was designed using "FreeCad"
It is designed to mount on a weather proof box, such as BUD enclosure.
Here is the link  for the files on Thingverse.
The screws used to hold the panels into the mount are 8-32 X 2 inch. They are a tight fit when installing them. Use a screw driver to coax them into the hole.  Be sure to place the screws into the mounts with the head of the screw at the top of the mount so that you can attach the "tilt braces" at the bottom of the mount.
There are two sets of tilt braces. One is designed to just prop the panel at around a 45 degree angle. After thinking about the possibility of wind getting under the panel and lifting it. I designed a second set that includes devices to secure the tilt braces to the box.
Related