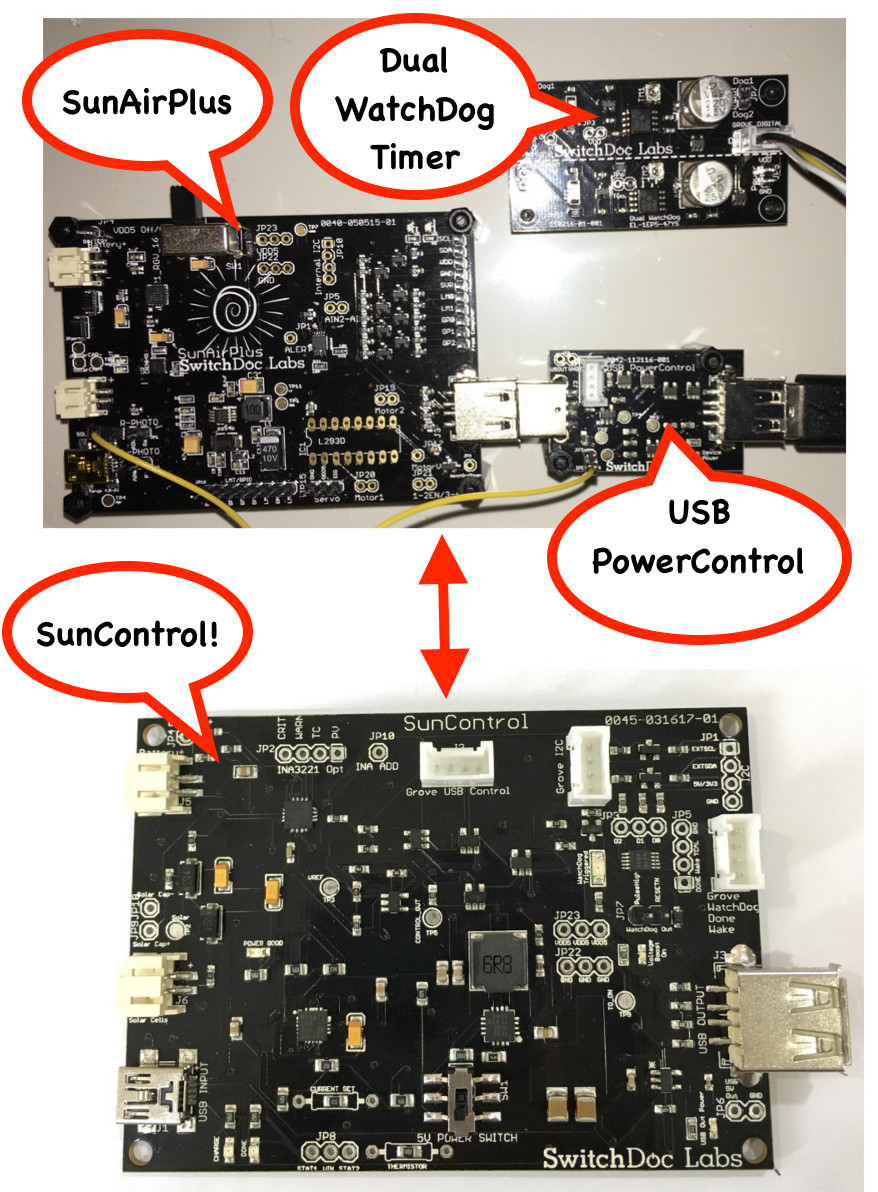 SunControl Prototypes Fully Functional – Grove Raspberry Pi/Arduino
News from SwitchDoc Labs Engineering!   The SunControl boards have checked out 100% functional and we will shortly release them to manufacturing.
The SunControl Kickstarter goals have been met and the kickstarter is still active (as of  July 2, 2017):
.

What is SunControl? – A Systems Approach to your Solar Project
The latest SwitchDoc Labs Kickstarter is SunControl, an advanced version of the SunAir/SunAirPlus product line with sensors to watch what is going on in the system. Same charging system and voltage booster but with a number of improved features for measuring, displaying and CONTROLLING what your Solar Power System is doing.
Features
– Solar Power Your System
– Charge your Batteries
– Control Your Computer Power
– Gather Important Data
– Improve Your Reliability
– Qi Wireless Charging Too!
– Grove Connectors – No Soldering
– Full MPPT LiPo Battery charging system
– 5V Voltage Booster for USB Power
– Computer Power Full Data Collection on the solar panels, battery and computer system via I2C. KNOW YOUR DATA!
– USB PowerControl – control the USB Port bboth by the charging system and by your computer
– Fully independent Hardware WatchDog Timer – dramatically improves the reliability of your system.
– Will charge phones (Android, iPhone and iPad)SunControl is customizable with your software and hardware.
SunControl Engineering Report:
Data Collector I2C INA3221 – All Channels Function at 3.3V and 5V I2C Interface
Battery checked
Solar Cell checked
Load Current checked
Solar Charger and Battery Controller
Solar Cell Interface
Battery Controller
MPPT Circuitry
Temperature Control
Anti Solar Collapse Circuitry
100% functional – tested to 7.15W (1300mA).   We are very pleased that we got this part correct.
5V Voltage Boost
Correct Voltage (5.12V – Allows for USB Cable Losses)
Switch Functional
Internal Voltage Correct
External USB Voltage Correct
Load Current
Current specifications met.
Tested to 1220mA.   Voltage still above USB Spec.    System specification is 1000mA supply.
USB PowerControl
Completely Functional
Enable, Control, Voltage Sample, Hysteresis Works
Enable and Control on Grove Functional – Grove overrules Battery Voltage Control
USB Power Turned on and off under Grove Control
Battery Voltage Control (default) Works
Hysteresis is Correct (3.3V Battery Level – USB Turns off, Turns USB on at 3.7V)
Independent Hardware WatchDog Timer
100% Functional
Power on Default of 1 minute Timer
All 8 Programmable modes tested (64s, 32s, 16s, 10s, 8s, 4s, 2s, 1s) for watchdog wake
Pat the Dog Tested and Verified
Resets Measured, both Open Drain and Pulse high
USB For iPhone / iPad Charging
100% Functional
Up Next?
We will be releasing the product to manufacturing and finish up the SunControl specification and software drivers.
Related