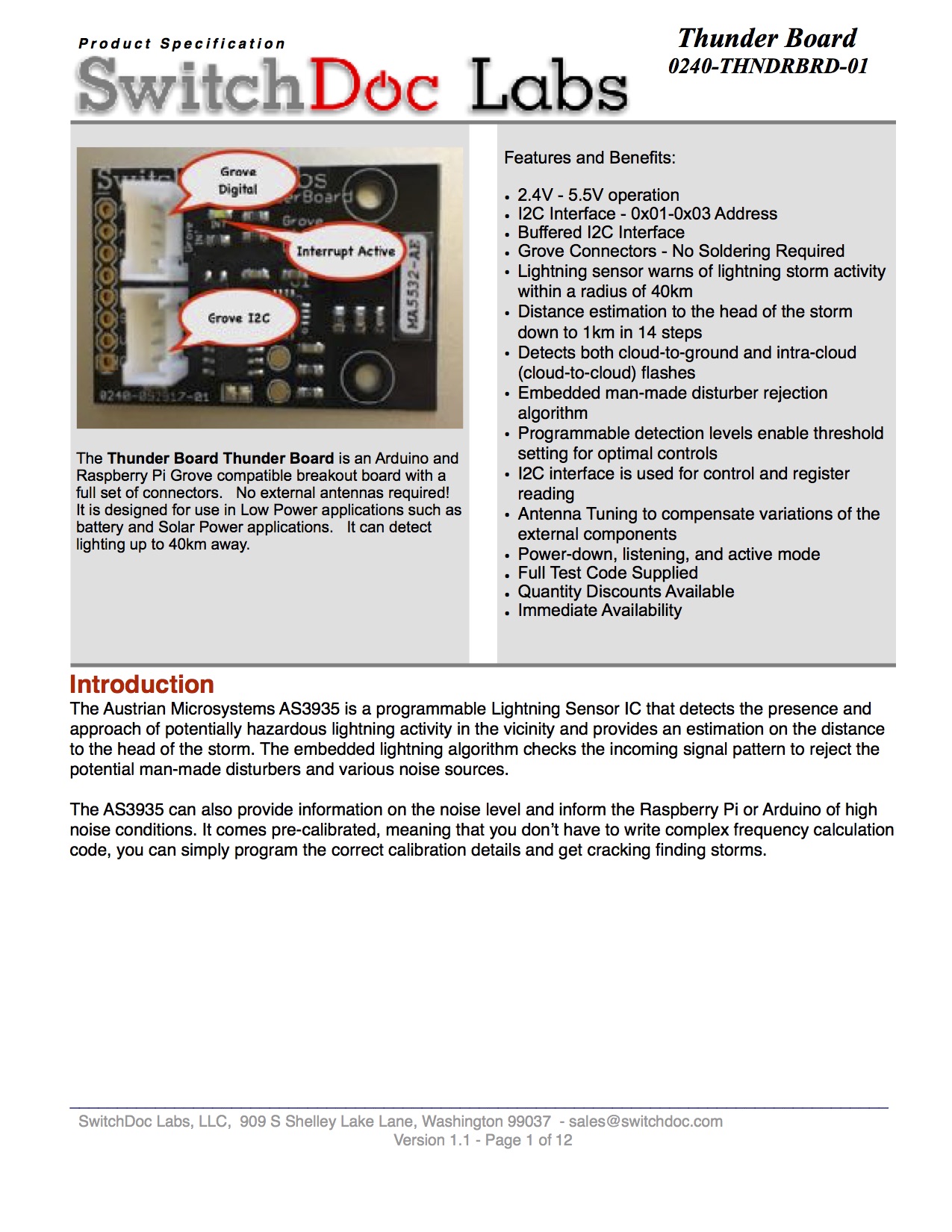 Thunder Board Lightning Detector Specification Released
We are pleased to announce the first release of the specification for the Thunder Board Grove Lightning Detector, currently finishing up a kickstarter.
The Thunder Board Specification is Here.

The Thunder Board Kickstarter

The Thunder Board Lightning Detector
This board will be on sale in mid-December 2017 as soon as we have fulfilled all the kickstarter rewards!
– 2.4V – 5.5V operation
– I2C Interface – 0x01-0x03 Address
– Buffered I2C Interface
– Grove Connectors – No Soldering Required
– Lightning sensor warns of lightning storm activity within a radius of 40km
– Distance estimation to the head of the storm down to 1km in 14 steps
– Detects both cloud-to-ground and intra-cloud (cloud-to-cloud) flashes
Embedded man-made disturber rejection algorithm
– Programmable detection levels enable threshold setting for optimal controls
– I2C interface is used for control and register reading
– Antenna Tuning to compensate variations of the external components
– Power-down, listening, and active mode
– Full Test Code Supplied
The Thunder Board  is an Arduino and Raspberry Pi Grove compatible breakout board with a full set of connectors.   No external antennas required!   It is designed for use in Low Power applications such as battery and Solar Power applications.   It can detect lighting up to 40km away.
How the heck do we detect lightning?  You would think it would be pretty easy, but it turns out it is not.   It's not just like a giant spark.   Well, it is a giant spark, but there are lots of other things that make electrical noise that can be confused for lightning.  Your computer (even your Raspberry PI and Arduino!), your car, the motor in your refrigerator, your cell phone, your computer monitor, your AM/FM radio and even your TV.  They all make electrical noise that can be confused with Lightning.
The Thunder Board is an I2C device and detects Lightning and provides a distance estimate to the "leading edge" of an incoming storm.
Related
Looking For A Specific Topic?