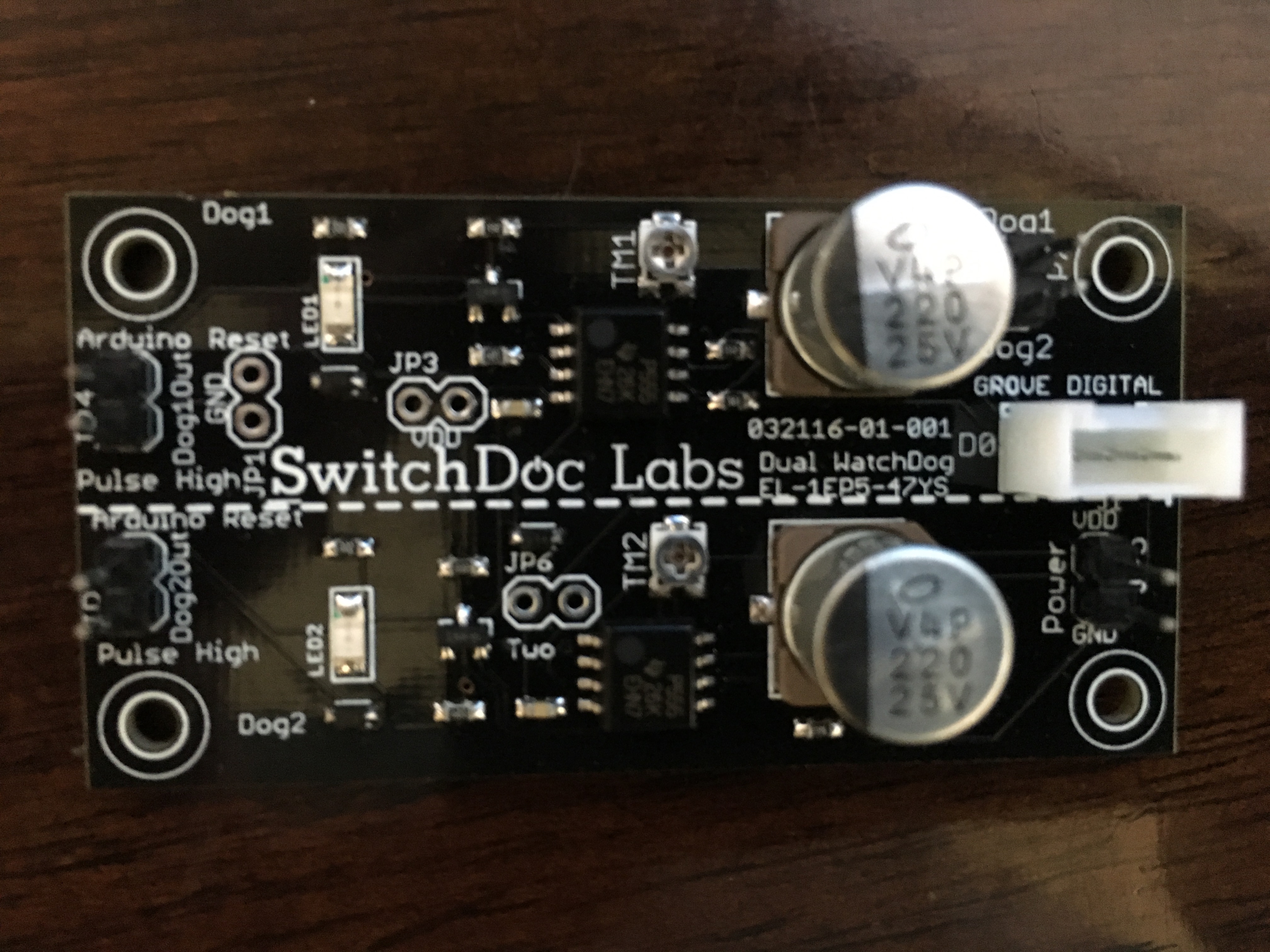 SwitchDoc Labs Dual WatchDog Timer
How to Buy SwitchDoc Labs Products
United States and Worldwide: SwitchDoc Labs Store 

Another Choice Within United States: Amazon.com (Free Shipping with Amazon Prime!)

 Note:    For the latest information and specifications, go to the product page on store.switchdoc.com
Production Dual WatchDog Board
Why do you need a external Hardware WatchDog on an Arduino or Raspberry Pi? The reason is the internal watchdog is disabled in the boot loader for the Arduino and the Raspberry Pi watchdog is unreliable and difficult to use.
The SwitchDoc Labs Dual WatchDog Timer is designed to make small computer such as the Arduino and Raspberry Pi more reliable by detecting and recovering from computer or software malfunctions. It has two WatchDog Timers that can be used independently or together to reset non-responsive computers. It directly can drive the Arduino Reset line, the Raspberry Pi B/B+ reset line or a to a relay to reset a Raspberry Pi.
Version 110216-01-001 Note: Open Drain buffers were now added to the Grove Watchdog inputs. You no longer have to leave the inputs float for the watchdogs to operate. You can leave them float or set them high. It works both ways. This makes the WatchDog compatible with the Pi2Grover Raspberry Pi Grove board. If you want the previous behavior, you can connect up to JP1. The Dog1 and Dog2 inputs from JP1 are not buffered.
Version 032116-01-001 Note: that your Grove Connector on your computer must be capable of being able to "float" (i.e. be an input) for the watchdog to work. If it does not float, then you must connect the Triggers directly to a GPIO on your computer.
Here is a recent series of articles by SwitchDoc Labs about WatchDog Timers.
You can download the Dual WatchDog Product Brief here.
Comments are now closed.   Please go to the Product Support Forum at the top of the page.
Below is how you hook it up to an Arduino.
And here is how you hook it up to a Raspberry Pi B+.